ACY Securities, a leading financial services provider, had the privilege of hosting a distinguished luncheon event featuring Tim James MP, the Shadow Minister for Fair Trading, Work Health and Safety and Building and Member for Willoughby, along with the Honorable Angus Taylor MP, Shadow Treasurer and Federal Member for Hume. The luncheon brought together these prominent political figures and 18 community members for an engaging discussion on critical issues affecting the community.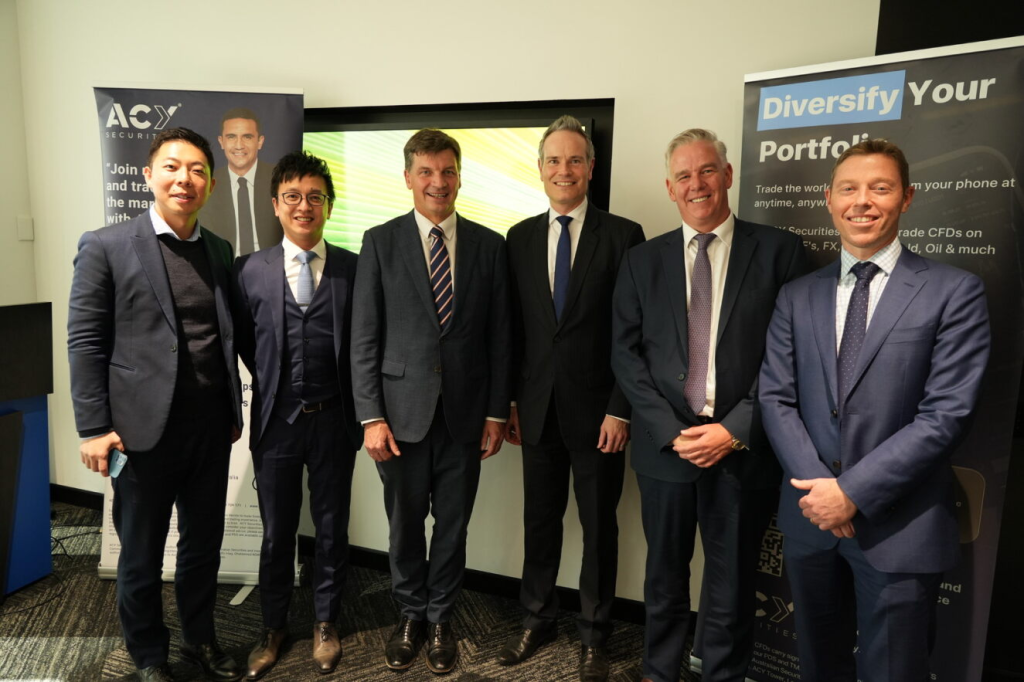 The event took place on 18/8/2023 at ACY Securities' headquarters in Sydney, providing an intimate and conducive environment for meaningful conversations. During the luncheon, attendees had the unique opportunity to engage in a dynamic dialogue with Tim James MP and Angus Taylor MP, gaining insights into their impactful initiatives and policy priorities.
ACY Securities' commitment to fostering community engagement and promoting informed discussions aligned perfectly with the objectives of the luncheon. The company was honoured to facilitate an open exchange of ideas, allowing attendees to express views and aspirations directly to the esteemed parliamentarians.
"We were thrilled to host Tim James MP and Angus Taylor MP for this insightful luncheon. Their dedication to advocating for fair trading, work health and safety, building, and economic prosperity is truly commendable," said Jimmy Ye – Chief Executive Officer, ACY Securities. "This event provided a platform for community members to voice their perspectives and gain a deeper understanding of the policy efforts that impact their lives."
Tim James MP expressed his appreciation for the opportunity to engage with local constituents and community leaders. He emphasized the importance of collaborative efforts between policymakers and the community to drive positive change. Angus Taylor MP echoed these sentiments, underlining the significance of a strong partnership between government representatives and the private sector in achieving shared objectives. The luncheon concluded with a sense of optimism and renewed commitment to working together to address the challenges and opportunities facing the community. ACY Securities remains dedicated to fostering ongoing dialogue and collaboration between elected officials and community members for the betterment of society as a whole.
About ACY Securities
ACY Securities is one of Australia's fastest growing multi-asset CFD broker, offering ultra-low-cost trading, rock-solid execution, technologically superior account management and premium market analysis. The key pillars we operate on are transparency, client-focus and technology. With a track record of servicing clients since 2011, we are well-positioned to look after your trading needs.
ACY Securities is part of the ACY Group of companies which include ACY Partners, ACY Advisory, ACY Connect, ACY Live and Zerologix.