ACY证券, a leading online trading provider, was honoured to host Tim James the Member for Willoughby at its office last week. The visit was an opportunity for Tim to learn about the inner workings of the company, as well as its plans to expand and diversify globally.
Tim is the current Member for Willoughby in the NSW Parliament, having been elected in February 2022. With over 30 years of residence in the Willoughby area, he is passionate about serving Willoughby, aiming to improve its lifestyle, culture, enterprise, opportunities, public amenities and natural environment.
With extensive experience in government, law, and business, Tim held executive positions at the Menzies Research Centre and the national industry body, Medicines Australia, where he served as CEO. Tim's legal career includes working as a solicitor for Allens Arthur Robinson and a legal advisor for Pfizer Australia. Additionally, he has held several roles in government, including Chief of Staff to the Hon Anthony Roberts MP, Minister's Office and various electorate officer positions.
During the visit, Tim had the opportunity to tour the ACY Securities office and meet with the company's team of professionals. He learned about the company's trading platforms, risk management systems, and customer service operations, as well as its plans to expand into different markets and diversify its product offerings.
"It's fantastic to come up here to your headquarters and see where it all happens. And what a stunning success story it is, ACY Securities, the ACY Group. Thank you for being an enterprising, hardworking, caring and community-oriented organisation." said Tim James MP.
Tim engaged in a discussion with ACY Securities staff on the company's plans to expand and diversify its product offerings, including its recent entry into the event and production industry through its launch of ACY Live. He also shared his vision for the Willoughby electorate and discussed the role that innovative companies like ACY Securities can play in supporting local economic growth.
"We were delighted to host Tim James MP at ACY Securities and provide him with insights into the inner workings of our company. As a leading fintech company in Australia and provider of online trading solutions, we take pride in our ability to offer our clients cutting-edge technology, superior market analysis, and unmatched customer service. We are also committed to expanding and diversifying our product offerings to meet the evolving needs of our clients." said Jimmy Ye, CEO of ACY Securities.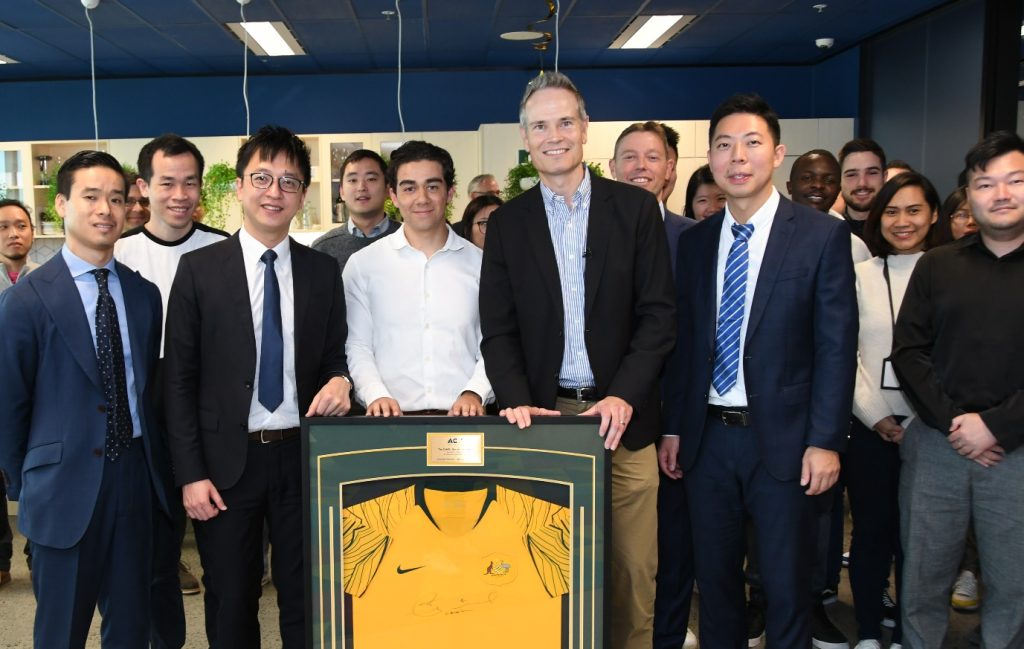 Front row L-R: Henrick Rajamountry – Head of Marketing of ACY Securities, Jimmy Ye – Chief Executive Officer of ACY Securities, Eric Gutierrez – Social Media Specialist of ACY Securities, Tim James – MP for Willoughby, Winson Cao – Co Founder & Chief Risk Officer of ACY Securities.
Tim's visit to ACY Securities highlighted the importance of innovation and diversification in the online trading industry. It was a great opportunity for ACY Securities to showcase its expertise and commitment to providing innovative and reliable trading solutions to its clients.
About ACY Securities
ACY Securities is one of Australia's fastest growing multi-asset online trading providers, offering ultra-low-cost trading, rock-solid execution, technologically superior account management and premium market analysis. The key pillars we operate on are transparency, client-focus and technology. With a track record of servicing clients since 2011, we are well-positioned to look after your trading needs. ACY Securities is part of the ACY Group of companies which include ACY Partners, ACY Advisory, ACY Connect, ACY Live and Zerologix.